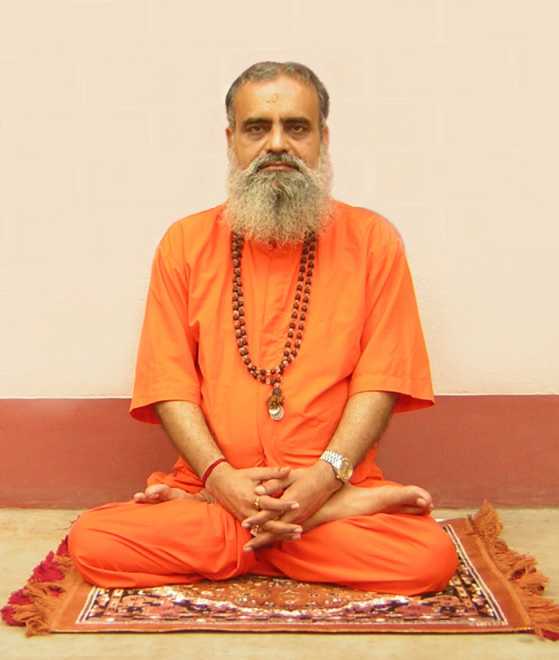 Yogacharya SadGuru Swami Sadhanananda Giri Maharaj
Swami Sadhanananda Giri was known as Sombhunath Chottopadhyay at birth which took place on the auspicious occasion of Sandhikhan of Durga Mahaastumi in the year 1951. Amongst four brothers and one sister, he is the first child of his father Sri Tarapada Chattopadhyay and mother Srimati Anguurbala Chottopadhyay. In the village of Saiberia, nearly 25 km away from Kolkata, Sri Tarapada Chattopadhyay used to perform as a priest for native dwellers of the community to earn the livelihood of the family. He also had a little tract of land. But this village land was not fertile enough and hence the villagers had to struggle a lot to meet their livelihoods. It is this struggle for survival that put the seed of self-sufficiency in the mind of little Sombhunath.
In childhood, during Upanayana (auspicious thread ceremony – a ritualistic symbol of Brahmins) while chanting the slokas of Bhagwat Gita, He came across the sloka :
"ananyaschintayanta mam ye janah paryupasate
tesham nityabhiyuktanam yogakshemam vahamyaham"
The holy God says that He, Himself takes the entire responsibility of yoga (acquiring the things which one desires to attain in life) and kshema (preserving the things which are already acquired by oneself) of one, who is always immersed in the thought of God, without thinking of any other things of the world.
This sloka worked wonder on the mind of the little village boy. He started thinking that, if the meaning of the sloka is true, then for living the best quality life, it is necessary to unconditionally surrender to the God and started reading many scriptures of Hindu philosophy.
The days passed by. The little Sombhunath was slowly grew up. After passing the school, he had taken admission to college. But his heart remains disconcert. He always absorbed in the analysis of the slokas of different scriptures. Slowly, the urge for having a Sadguru started haunting his mind. Because, by this time, reading different scriptures, he came to know that, without SadGuru his dream of uniting with God will never see the light of the day. One day, getting inspiration from his Sanskrit teacher of his college, he left home in search of his Guru. At that time he was only eighteen and half years old.
His search took him to Hardwar, where he met countless Sadhaks and Monks, but none of them made him feel that he can completely surrender to them for his final liberation and understanding of the ultimate. Disappointed young Sombhunath then continued His search in different districts of Bengal. It was during these days he met Swami Bhabananda Giri at Telkota ashram, which is approximately 3 KM west of Chandrakona road station of West Midnapore district in West Bengal. Swami Bhabananda Giri gave initiation to the young aspirant of spiritual path and made him a Brahmachari (the first stage of taking a complete ascetic and renounced life). Sombhunath began his journey to the Absolute under the direct supervision of Swamiji. Being a dedicated disciple, Sombhunath crossed the stages of Yoga Sadhana very fast and became one of the youngest Yogacharya of all times in the year 1975 when he was only 24 years old. Swami Bhabananda Giri bestowed this title to young Sombhunath in a sacred ceremony at Telkota ashram which was attended by several monks and yogis of highest order. Swami Bhabananda had conferred the new name Yogacharya Sadhanananda Giri to His young disciple.
In January 1976, while on a tour to Gangasagar fair, at Uluberia, Swamiji met Haradhan Jathi and Sudhir Barui of Jujersa. It was on their earnest request, Swamiji visited the village Jujersa for the first time while returning from gangasagar fair. Villagers of Jujersa arranged His stay in the adjacent room of Kali Temple near the funeral ground of the village. Here He stayed till the month of May 1976 and then returned back to His Gurudev's ashram at Telkota. After a few months, as per Swami Bhabananda Giri's instruction, Swami Sadhanananda Giri returned back to Jujersa for staying there permanently.
Now Swamiji started the life of Yogacharya. To his innumerable devotees & admirers he is not only the embodiment of Godliness, but also a living God – the ultimate repository of peace & sublimity. He holds the key to self-realization & salvation. Following his guidelines, many of His disciples crossed the barriers of mundane existence to attain the summit of human life. Mortals like us are indeed fortunate to have a being such as he in our midst- a recluse of the highest order who has not retired into the obscure nooks of the Himalayas or into the inaccessible sylvan retreats of the Narmada, but continues to live within us in a semi urban conglomeration – just a few miles off Calcutta (Kolkata).
Swami Sadhanananda Giri Maharaj has taken Maha Samadhi and merged with His Gurudev on July 08, 2018.
Swamiji's Books.
Swamiji's Music.
Swamiji's Discourses.