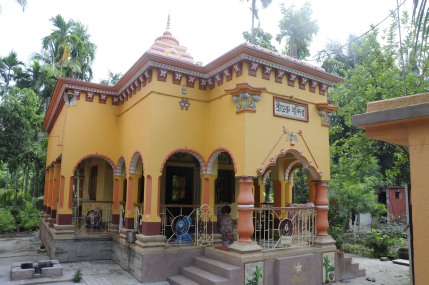 Jujersa Yogashram was founded by Swami Sadhanananda Giri Maharaj in the year 1977. It is located next to a sparsely used village cremation ground for the Hindus ("smashan" in Bengali or "samsan" in Hindi) and opposite the Samadhi or Holy Burial Place of a locally famous Muslim Fakir called Manik-Peer. It is also next to the local temple of Goddess Kali.
In January 1976, while on His way to Gangasagar mela (a religious congregation for the ritual of holy bath which happens every year in Mid January at the confluence of Bay of Bengal and a tributary of the river Ganges called Hoogly which passes through Kolkata), Swamiji met some veterans of the village of Jujersa, at Uluberia, a place near to the present ashram. It was at their earnest request; He visited the village for the first time while returning from Gangasagar Mela in March, 1976. Villagers of Jujersa arranged for His stay in the adjacent room of the Kali Temple beside the funeral ground of the village. Here He stayed till the month of May, 1976 and then returned back to His Gurudev's Ashram at Telkota, in the West Midnapore of West Bengal. After a few months, as per His Gurudev, Swami Bhabananda Giri's instructions, Swami Sadhanananda Giri returned back to Jujersa to build an Ashram for staying here permanently.
The old Ashram was a two room cottage, with a thatched roof. The present Ashram is the result of untiring effort of Swamiji to build a Sri Guru Mandir (temple) in memory of his Guruji Swami Bhabananda Giri Maharaj. The entire new ashram complex is situated just by the side of the Old Ashram cottage.
Life at the Ashram, in the presence of our Sadguru reminds one of the sacred traditions of Ashram-centered life style in India advocated by the scriptures. It is here, every seeker may feel a sense of tranquility and his mind is stirred to seek the deeper meanings of life. The air here is charged with a feeling of assurance and serenity by the loving presence of Swamiji.