A pioneering institution in practice and propagation of Kriya Yoga, the Jujersa Yogashram has carefully avoided wide very wide publicity. The basic duty of every member of this Ashram has been self-elevation by rigorous and devoted practice of Kriya Yoga under the direct guidance of their Sadguru. Any person – belonging to any tier of the society or any religion – can come directly to the Ashram & meet Swamiji personally.
Interactions with Swami Sadhanananda Giri at Ashram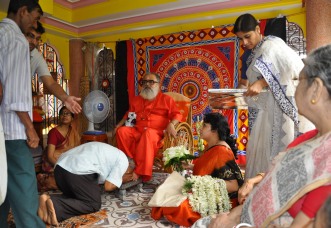 Swami Sadhanananda Giri Maharaj is an untiring writer in the field of Kriya Yoga and Spirituality. He prepares His speeches for different religious seminars Himself and also prefers to answer the queries from His disciples residing at distant places in His own handwriting or directly over telephone. And after all these activities, His constant vigil remains on all the activities of the ashram. In spite of His very loving nature, He likes to maintain a disciplined life even though it may not always be possible for His myriad commitments in and outside ashram.
As a Guru and the main life line of the Ashram, He is always very accessible to the devotees here. Sitting in front of Him, they can pose any question – personal, philosophical or, regarding the practice of yoga. This direct communication between the Guru and His disciples (Guru & Shisya) – like the father and the son / daughter – is the basis of all activities of the ashram. And after a few interactions disciples start realizing how their feelings and thoughts, queries and doubts are being sensed by Sri Guru, the Great Master, even before they put them verbally. Devotees become astonished to note how in His words, they find answers to their questions although they may not have been uttered to Him. Devotees gradually develop a firm belief that their life is best secured at His hands and so they avoid placing problems of the material world before Him, as they know by sincere devotion and dedicated practice of Kriya, any material problem – however grappling – can be controlled so that life moves on smooth and straight.
The Ashram is very small. Only Swamiji and four to five disciples – devoted to the service of Sri Guruji & the assembled devotees – permanently stay here. The sole authority for granting the permission for staying at the Ashram is Swamiji himself.
Ashram Trust
Disciples of the Ashram share the day to day responsibilities for running the Ashram. Performing selfless work in Guru's Ashram is a sacred tradition in India.
A Trust has been created under the direction from Guruji a few years back to look after Ashram's legal & financial matters. The Trust is named: "Srimat Swami Bhabananda Giri Maharaj Srigurumandir and Sadhanananda Sadhanmamdir Trust". It is a registered with the Government if West Bengal as a Charitable Trust. Swami Sadhanananda Giri is the founder President of the Trust an few senior disciples, are its members.
At the Ashram – the principal goal is the practice of Kriya. The Ashram also has a hugely subsidized homeopathy clinic. Every Sunday poor and needy patients from nearby villages come to the clinic to receive free medical advice and medicines. It also runs a Charitable Clinic for Allopathic prescriptions in the old Ashram cottage in week days. Every year on the birth anniversary day of Param Guru Swami Bhabananda Giri and on the Birthday of our Swamiji in the month of October, the ashram distributes free blankets, clothes etc. to the local poor.
Initiation at Jujersa Yogashram
Jujersa Yogashram maintains the traditional principles of Kriya Yoga in which initiation & practice of Kriya Yoga are kept secret between the SadGuru and His disciple. Initiation is given to only a few devotees at a time by Swamiji himself. One has to take oath before the Guru not to disclose anything about the spiritual practice or his spiritual experiences except to the SadGuru.
Guruji is the sole deciding authority regarding to whom and when He will bestow His blessings in the form of Initiation.
Those willing to have initiation from Swamiji are required to contact us in the prescribed format given in the "Contact Us" page and take prior appointment to meet Guruji personally.
There is no fixed date or time in one's life to start the journey to the Absolute by way of taking diksha or initiation. Initiation is not the final goal, it is just a beginning of an inward journey. Hence it is realizations which matter the most.
Whether one particular person will receive initiation from Swamiji is completely pre-determined by his "prarabdha" ("prarabdha" can be loosely translated as the manifestations of the effects of the deeds done in past lives). Sometimes devotees have to wait for months, even years to get initiation. In Swamiji's language, "I have not got the signal from my Guruji." Again there are many who have got their date of initiation on the very first visit. Guruji says, "Those who are predetermined to have initiation from me, will certainly get it at the proper time."
Usually He asks devotees to read The Bhagwat Geeta (preferably a Kriya Yoga related commentary like Pranav Geeta) & books written by Him & have His company (Sat-sang) for some days before initiation. He says, "you must watch your Guru in the day as also in the night" – taking the clue from Sri Ramakrishna's words. "You should be sure that He does what He says. His words and His acts should be same".
There is no concept of any fixed fees etc. for initiation at our Ashram. Guruji, like a true sannyasi, gracefully accepts any amount as Gurudakshina or offerings which is given with a sense of dignity and honor. In His wards in Bengali "ami kebal shraddhar daan grahan kori – (I only take offerings given out of respect)."
Membership of the Ashram
The Ashram runs only on donation given by its members. Anyone who is initiated by Swami Sadhanananda Giri is considered to be a member of the Ashram from the date of initiation. One has to fill-up a simple one page form for membership & it has to be signed by the President of the Ashram & diksha Guru i.e. Swamiji himself. A member has to pay a minimum monthly membership fee of Rs. 10/- (Rupees Ten) only. This is the minimum rate of subscription.
Donation from members
Anyone willing to donate beyond the minimum subscription can do so at his own will.
Donation from non-members
We frequently receive emails expressing willingness for donation to the Ashram. Usually the Ashram does not accept donation from someone unknown to us. One has to visit the Ashram & meet Swamiji personally at least for some days & then decide about these matters. Donation from non-members of the Ashram is only accepted after receiving permission from Guruji.
New Comers to Ashram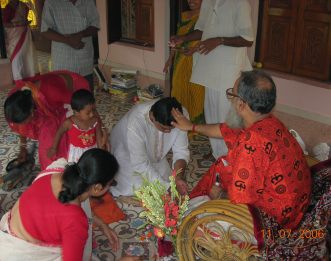 Swamiji meets devotees only on Saturdays & Sundays and Public holidays.
He prefers to give adequate time to a new devotee, answering to all their questions – both in spiritual & material life – in His own words. Hence, those willing to come to meet Swamiji at Ashram are required to contact us by mailing at info@kriyayogashram.net or by submitting the duly filled up form given in the "Contact Us" page and take prior appointment. This is only to make sure Swamiji is available at the Ashram for satisfying the spiritual quest of the devotee.
Swamiji prefers to speak in Bengali and sometimes in English although He understands English & Hindi very well. Hence, for those not able to talk in Bengali, selected disciples attend to the talks between the devotee & Swamiji, acting as an interpreter.